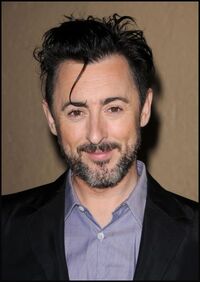 Alan Cummings is one of the actors in the Spy Kids series. He is known for playing the character Fegan Floop.
Early life
Cumming was born in Aberfeldy, in Perthshire, Scotland, the son of Mary (née Darling), an insurance company secretary, and Alex Cumming, a forester. He has stated that his father was physically and emotionally abusive towards him.[1][2] He has one older brother, Tom, and a niece and nephew. Brought up in Angus, Cumming attended Monikie Primary School and Carnoustie High School and originally aspired to a career in veterinary medicine, but a personality clash with his biology teacher prevented him from taking a related elective and he subsequently set his sights on becoming an actor.[3] Following graduation, he spent a year and a half employed as an editor and columnist for the Scottish pop magazine TOPS before entering the Royal Scottish Academy of Music and Drama in Glasgow. On graduation from Drama school he married fellow student, Hilary Lyon; they divorced 8 years later and had no children.
Film
Cumming played Sean Walsh, an unwanted suitor of Minnie Driver's character, in Circle of Friends, an Irish film released in 1995. In 1995 he played Ivanovich Grishenko in the James Bond film GoldenEye. Cumming co-wrote, co-directed, co-produced, and co-starred in the ensemble film The Anniversary Party with friend and former Cabaret co-star Jennifer Jason Leigh, in 2001.[4] The two starred in the movie as a Hollywood couple. Cumming starred in and directed Suffering Man's Charity, later released as Ghost Writer. He had prominent roles in the Spy Kids trilogy, X-Men 2 (as Nightcrawler), and was in Spice World, as well as Stanley Kubrick's Eyes Wide Shut, Josie and the Pussycats and Son of the Mask, along with acting in the Flintstones movie Viva Rock Vegas. He played Saturninus in the 1999 Julie Taymor film production of Titus. In 2001 Cumming starred in Spy Kids where he played supposed antagonist Fegan Floop . Cumming played a psychotic ex-amusement park employee in David Munro's Full Grown Men, which was shown in theaters throughout the U.S. in summer 2008.
In Gray Matters, a 2007 romantic comedy film directed by Sue Kramer, Cumming, plays cab driver Gordy who had a crush on Gray (Heather Graham). It premiered on October 21, 2006 at the Hamptons International Film Festival and had a U.S. theatrical release on February 23, 2007. In Burlesque, Cumming played the host, Alexis. In 2010, Cumming will provide the voice of Adolf Hitler in the film Jackboots on Whitehall as well as co-star in "Boogie Woogie". During his career, Cumming has also directed two short films, Butter and Burn Your Phone. The latter began its life as a one-off drama on BBC Radio 4. He most recently provided the voice of Scottish Smurf, Gutsy Smurf, in the live-action/CGI film adaptation of the Smurfs.
Television
United Kingdom
In the mid-1980s Cumming made brief appearances in Scottish television shows including Take The High Road and Taggart. His first major television role was in the Christmas 1991 comedy Bernard and the Genie, a Richard Curtis-scripted one-off show where he starred alongside Lenny Henry and Rowan Atkinson. Cumming starred as Sebastian Flight in the Scottish sitcom The High Life in 1994-5. The series was written by Cumming and co-star Forbes Masson, continuing an acting-writing partnership the two had developed since their drama school days. Masson and Cumming also formed a cult Kelvinside musical double act "Victor and Barry", which was filmed for an stv show and were nominated for a Perrier Award in the Edinburgh Festival Fringe in 1988, toured Australia in 1989, playing the Sydney Opera House, released a record ("See Victor and Barry and Faint") but were killed off onstage at the London Palladium in the early 1990s.
United States
In 2001, he guest starred in the HBO comedy Sex and the City as O the designer in the episode, 'The Real Me'. 2003 saw him playing a cameo role in the American sitcom Frasier, playing Niles' yoga instructor. He also guest starred on 3rd Rock from the Sun. In 2004, he starred in Showtime's Reefer Madness: The Movie Musical in which he played the role of The Lecturer – a versatile character who narrates the story and transforms himself into several other minor characters. Shortly afterward, he had a short role in Richard Bell's feature film Eighteen. In 2005 Alan played as Loki in Son of the Mask. He appeared in BBC show, Shoebox Zoo as the humble, kind-hearted Bruno.
Cumming played the role of Bill Blaikie, a gay drag queen party promoter hired by Kit Porter to manage her café cum nightclub, in season 3 of The L Word. His character had an affair with Max, a transgendered female-to-male character in the show. He appeared in episodes 2 to 7, which originally aired on Showtime in 2006. In 2007, Cumming played Glitch/Ambrose, an inventor whose brain had been partially removed, in the TV miniseries, Tin Man. He also provided the voice of Chuck Masters, a 50-year-old, paralyzed, HIV-positive gay man in Logo's Rick and Steve, a stop animation sitcom created by Q. Allan Brocka. He is also the host of the 2008–2010 seasons of the PBS Masterpiece Mystery! series.
Cumming also appeared as the third celebrity hijacker in Big Brother: Celebrity Hijack, giving the housemates a method acting task in which they had to stay in character all day and then produce an improvised play. He plays Eli Gold on the CBS television show The Good Wife, becoming a series regular in the show's 2010–2011 season,[5] and Desrae, a transvestite, on the British series The Runaway. Cumming also hosted short-lived US cable television shows, "Eavesdropping with Alan Cumming," in which he interviewed female co-stars of his movie roles, and "Midnight Snack," where he and his dogs introduced cult movies. Cumming has also appeared on numerous US, UK and Australian talk shows.
Theatre
Cumming played the Emcee in the 1998 Broadway revival of Cabaret, for which he won a Tony and NY Drama Critics award.[6] He had previously played the role in a production at London's Donmar Warehouse theatre, for which he had been nominated for an Olivier Award.[6] He recorded the song, "Baby, It's Cold Outside" with Liza Minnelli for the Broadway Cares: Home for the Holidays album in 2001.
Other stage roles have included Otto in the 2001 Broadway production of Design for Living by Noël Coward, Valere in David Hirson's La Bete, the title role in the 1993 English Touring Theatre's Hamlet (playing opposite his then-wife, Hilary Lyon, in the role of Ophelia), and The Madman in the 1990 Royal National Theatre production of Accidental Death of an Anarchist by Dario Fo, for which he won an Olivier Award.[7] In 2002, Cumming and then-boyfriend British director Nick Philippou formed the production company The Art Party. The company's first and only play was the first English production of Jean Genet's play Elle, which Cumming had adapted from a literal translation by Terri Gordon. The company folded in 2003.
In 2006, Cumming returned to the stage, firstly performing in a poorly-received revival of the Bertolt Brecht-Kurt Weill musical The Threepenny Opera opposite Cyndi Lauper. They later performed at the Tony Awards. In late 2006, he appeared in the West End playing the lead role in Bent, a play about homosexuals in Germany under the Nazis. In 2007 he took the lead role in the National Theatre of Scotland's production of The Bacchae, which premiéred at the Edinburgh Festival in August, transferring to the Lyric Theatre in London and then to Lincoln Center, New York. Cumming performed alongside Dianne Wiest in Classic Stage Company's production of Anton Chekhov's The Seagull, directed by Viacheslav Dolgachev. He was optioned to play the Green Goblin in the new musical adaptation of the Spider-Man comics, but was replaced by Patrick Page.
Other work
Cumming wrote a novel, Tommy's Tale, published in 2002.[8] He has also written articles for magazines, notably as a contributing editor for Marie Claire magazine, writing on the haute couture shows in Paris, as well as what it was like for him dressing as a woman for a day. Cumming recorded a duet of "Baby, It's Cold Outside" with Liza Minnelli to raise money for Broadway Cares/Equity Fights AIDS and the September 11 Fund. In 2005 he released a fragance called "Cumming," and a related line of scented bath lotion and body wash. They were sold exclusively at Sephora (which did not renew its distribution agreement) and a website which he dismantled in 2009 because of hackers defrauding customers.
Cumming served as a delegate for the Creative Coalition]during the 2004[Democratic National Convention in Boston.[9] and contributed to If You Had Five Minutes with the President, a collection of 55+ essays by members or supporters of The Creative Coalition.[10] He was subsequently widely quoted for stating that he wished to see Obama naked.[11] On 1 September 2009, Cumming released his first solo album based around his one-man show, I Bought a Blue Car Today.[12] On 13 September 2010 Cumming was featured in an episode of Who Do You Think You Are?, the BBC series that explores the family background and ancestors of famous figures.[13] He investigated his grandfather Thomas Darling, who he discovered had died playing Russian roulette while serving as a police officer in Malaya.[14]
Personal life
Cumming lives in New York City with his partner (via UK civil partnership), graphic artist, Grant Shaffer, and their dogs, Honey and Leon.[15] The couple dated for two years before entering into a civil partnership at the Old Royal Naval College Greenwich]on January 7, 2007.[16] After his civil partnership, when asked if he was monogamous, he stated "I don't believe that monogamy is feasible".[17]
Once described as "a frolicky pansexual sex symbol for the new millennium", Cumming has stated that he considers himself bisexual, "although the pendulum has obviously swung".[18] Prior to the civil union, Cumming dated both men and women. Previous relationships include a two-year relationship with actress Saffron Burrows, a six-year relationship with theater director Nick Philippou, and a 1985 marriage to actress Hilary Lyon that lasted eight years.[19]
He used to be a member of the Church of Scotland until his mother received a letter from them saying they had "read something about me being an atheist and would I like to leave". He said he had attended out of tradition, but realized being a part of it was "only condoning and validating lots of things I disapprove of: oppression, guilt, shame, etc".[20]
In a profile for The Times, Cumming stated that he "would dearly like to adopt a child", but subsequently stated his life was "too hectic" for children.[21] Once he outed himself as bisexual in 1998, Cumming promoted LGBT rights, emceeing and attending fundraisers for organizations such as the Gay & Lesbian Alliance Against Defamation (GLAAD) and the Human Rights Campaign (HRC), as well as several AIDS charities, including the American Foundation for AIDS Research (AMFAR) and Broadway Cares/ Equity Fights AIDS.
Cumming is a patron of NORM-UK, an English- registered charity concerned with foreskin health and matters related to circumcision; he has revealed that he is not circumcised.[22][23] Referring to the high prevalence of routine infant circumcision in the United States, Cumming told The Sunday Times in 2007: "I think it's insane that an entire nation is ignorant about a part of their body they have lost... The sanitation issue, especially, always comes up when I am in America. But you know what? I am very clean. I shower frequently. I am very proud of my foreskin. I believe it's there for a purpose. And I just want people to stop and think for a second before they decide to get a big bit of their newborn son's cock cut off."[24]
In March 2005 Cumming received the Vito Russo Award at the 16th Annual GLAAD Media Awards for outstanding contributions toward eliminating homophobia.[25] In July of the same year he was also presented with the HRC's Humanitarian Award in San Francisco, also for his LGBT public stance. In November 2006 Cumming received a Doctor of Arts honorary degree from the University of Abertay Dundee. He also is a patron of the Scottish Youth Theatre, Scotland's National Theatre 'for and by' young people. Cumming was appointed an OBE in the 2009 Queen's Birthday Honours List for services to film, theatre and the arts and activism for LGBT rights.[26][27] On November 7, 2008, Cumming became a dual-national and was sworn in as a citizen of the United States of America at a ceremony in New York City.[28][29]
Filmography
Year
Film
Role
Notes
1987
Shadow of the Stone
Tom Henderson
TV Series
1991
Bernard and the Genie
Bernard Bottle
TV Movie
British Comedy Award for Best TV Comedy Newcomer
1992
Prague
Alexander Novak
1993
Micky Love
Greg Deane
TV Movie
Mr. Bean
Bachelor #2
Uncredited
TV Series
1994
Second Best
Bernard
Black Beauty
Black Beauty
Voice
1995
Circle of Friends
Sean Walsh
GoldenEye
Boris Ivanovich Grishenko
The High Life
Sebastian Flight
TV Series
1996
Emma
Mr. Elton
3rd Rock From The Sun
Angus: "The Hole" McDuff- Hole expert
Season 5, Episode 18 Dick and Harry Fall Into a Hole
1997
Romy and Michele's High School Reunion
Sandy Frink
Spice World
Piers Cuthbertson-Smyth
Buddy
Dick Croner, Trudy's Assistant
1999
Titus] '
Saturninus
Plunkett & Macleane
Lord Rochester
Eyes Wide Shut
Hotel Desk Clerk
Annie
Rooster
Musical
2000
Urbania
Brett
God, the Devil and Bob
The Devil
TV Series
The Flintstones in Viva Rock Vegas
Mick Jagged/Gazoo
Get Carter
Jeremy Kinnear
2001
The Anniversary Party
Joe Therrian
Writer/Producer/Director
Nominated — Independent Spirit Award for Best First Feature
shared with Jennifer Jason Leigh
Nominated — Independent Spirit Award for Best First Screenplay
shared with Jennifer Jason Leigh
Sex and the City
O
TV Series
Investigating Sex
Sevy
Josie and the Pussycats
Wyatt Frame/White Ass Wally
Spy Kids
Fegan Floop
Company Man
General Batista
2002
Spy Kids 2: The Island of Lost Dreams
Fegan Floop
Nicholas Nickleby
Mr. Folair
National Board of Review Award for Best Cast
Foyle's War
Host
TV series
2003
X2
Kurt Wagner / Nightcrawler
Spy Kids 3-D: Game Over
Fegan Floop
2004
Shoebox Zoo
Bruno the Bear
TV Series
Garfield: The Movie
Persnikitty
Voice
Eighteen
Father Chris
2005
Son of the Mask
Loki
Nominated – Golden Raspberry Award for Worst Supporting Actor
Reefer Madness]'
Lecturer/Goat-Man/FDR
Ripley Under Ground
Jeff Constant
Neverwas
Jake
Sweet Land
Frandsen
Producer
Independent Spirit Award for Best First Feature
2006
The L Word
Billie Blaikie
TV Series
Full Grown Men
The Hitchhiker
Co-Producer
2007
Gray Matters
Gordy
Suffering Man's Charity (aka Ghost Writer)
John Vandermark
Executive Producer
Tin Man
Glitch
TV miniseries
2009
Boogie Woogie
Dewey
Dare
Grant Matson
PoliWood
Himself
Documentary
2010
The Tempest
Sebastian
Jackboots on Whitehall
Adolf Hitler
Voice
The Good Wife
Eli Gold
TV Series (Recurring Season 1; Main Cast Season 2-present)
Nominated — Primetime Emmy Award for Outstanding Guest Actor in a Drama Series
Nominated — Primetime Emmy Award for Outstanding Supporting Actor in a Drama Series
Riverworld
Judas Caretake
Burlesque
Alexis
2011
The Smurfs
Gutsy Smurf
2012
The Lorax
Narrator
References
External links