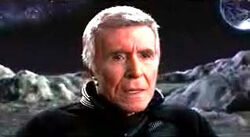 Grandpa Valentin Avellan
is the father of
Ingrid Cortez
and the husband of
Helga Avellan
. He is also
Juni
's favorite relative. Valentin was placed in a wheelchair by
the Toymaker
, who caused an accident that led to this handicap. Fortunately, the wheelchair is equipped with the ability to fly. Played by late
Ricardo Montalbán
.
Spy Kids 3-D: Game Over
In Spy Kids 3-D: Game Over, Valentin travels into the dangerous virtual world of the video game, Game Over! in order to save his granddaughter, Carmen Cortez. She is being held by Valentin's old partner, The Toymaker, who was the reason for his handicap. In the end, Valentin forgives the Toymaker, who changes his ways for good.
Ad blocker interference detected!
Wikia is a free-to-use site that makes money from advertising. We have a modified experience for viewers using ad blockers

Wikia is not accessible if you've made further modifications. Remove the custom ad blocker rule(s) and the page will load as expected.