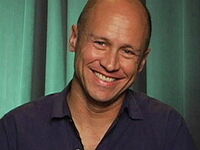 Mike Judge is one of the actors in the Spy Kids series. He is known for playing the character Donnagon Giggles.
Early life and education
Born in Orellana, Ecuador, Mike Judge was raised in Albuquerque, New Mexico, United States, where he attended Saint Pius X High School. He was a trombonist in the Albuquerque Youth Symphony Program. He is the son of anthropologist Jim Judge and librarian Margaret Blue. Judge graduated with a Bachelor of Science in physics in 1986 from the University of California, San Diego.
Filmography
Office Space (Milton/SNL shorts) (director, actor, producer, animator, music) (1991)
The Honky Problem (director, actor, producer, animator, music) (1991)
Frog Baseball (director, writer, producer, animator, music) (1992)
Peace, Love and Understanding (director, writer, producer, animator, music) (1992)
Beavis and Butt-head (creator, director, writer, actor, executive producer, character designer, creative consultant, creative supervisor, musical theme) (1993–1997, 2011-present)
Airheads (voices of Beavis and Butt-head on the radio) (1994)
Beavis and Butt-head Do America (director, writer, actor) (1996)
The Simpsons ("Bart Star" episode) (1997)
King of the Hill (creator, actor, executive producer) (1997–2009)
Space Ghost Coast to Coast]] (himself) (1997)
Office Space (director, writer, actor) (1999)
South Park: Bigger, Longer & Uncut (played 'Kenny's Goodbye' as is credited) (1999)
Serving Sara (motel manager)
Spy Kids (played 'Donnagon/Donnamight') (2001)
Spy Kids 2: The Island of Lost Dreams (played 'Donnagon Giggles') (2002)
Frasier (played 'Sexual harassment facilitator') (2003)
Spy Kids 3-D: Game Over (played 'Donnagon Giggles') (2003)
Idiocracy (director, writer, story, producer) (2006)
Jackass Number Two (cameo) (2006)
Aqua Teen Hunger Force (one episode) (2006)
The Animation Show - Beavis and Butt-head Introduction (animator) (2007)
The Goode Family (creator, actor, executive producer) (2009)
Extract (writer, actor, director, producer) (2009)
Jackass 3D - Beavis and Butt-head introduction (voice over), cameo (2010)
References