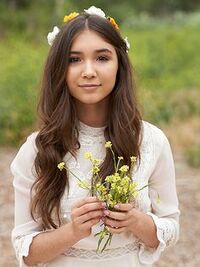 Rowan Eleanor Blanchard is the actor that played Rebecca in Spy Kids 4.
Biography
Birthday: October 14, 2001 Los Angeles, California
Middle Name: Eleanor
Age: 15
Favorite Books: Chasing Vermeer by Blue Balliet, So B. It by Sarah Weeks, and The Giver by Lois Lowry
Favorite Color: Blue and lavender
Favorite Actresses: Elle Fanning and Emma Watson
She had her first dance recital at age 4.
She has to read a lot of books to fall asleep at night.
She is obsessed with Broadway.
Her father in Spy Kids 4 has known her since her birth.
Her entire family doesn't eat red meat.
She has been into fashion since she was 4, tearing out pages of her mom's fashion magazines that had outfits she liked.
She has one dog that is a Cocker Spaniel named Chelsea.
Robert Rodriguez called her on his unblocked number personally to tell her that she got the part in Spy Kids 4.
From 2014-2017, Rowan starred in her own TV series called Girl Meets World, a spin-off of Boy Meets World.
Filmography
2011 Piper's QUICK Picks: Herself
2011 Little in Common: Raquel Pacheo
2011 Spy Kids: All the Time in the World: Rebecca WIlson
2010 The Back Up Plan: Mona's Kid (11 years)
2010 Dance-A-Lot-Robot: Caitlin
Ad blocker interference detected!
Wikia is a free-to-use site that makes money from advertising. We have a modified experience for viewers using ad blockers

Wikia is not accessible if you've made further modifications. Remove the custom ad blocker rule(s) and the page will load as expected.