Spy Kids is a 2001 American science fantasy family adventure film written and directed by Robert Rodriguez. Alexa Vega and Daryl Sabara play the lead roles. Rodriguez also produced with Elizabeth Avellan and Guillermo Navarro and was the editor of the film. The film was released in United States theaters on March 30, 2001 and on VHS and DVD on September 28, 2001.
Plot
Carmen and Juni Cortez live with their parents, Ingrid and Gregorio, who they believe are boring, unaware that their parents are actually semi-retired international spies, working for an organization called the OSS (Organization of Super Spies). Originally, Ingrid and Gregorio were enemies until they fell in love and got married. They retired to some degree when they had their children. Juni lacks self-esteem and watches a children's television show named "Floop's Fooglies", presented by a man named Fegan Floop, co-starring the Fooglies, the colorful, mutant, gibberish speaking friends of Floop. Gregorio shows dislike and later suspects the show when several fellow spies go missing. Ingrid and Gregorio decide to investigate and leave their children in the care of Uncle Felix Gumm, although he is not actually their uncle, rather a family guardian. Ingrid and Gregorio are captured by Floop's men, the ever idiotic Thumb-Thumbs, robots with thumbs for legs, arms and heads that wear red vests.
In Floop's island castle, the entertainer is reluctantly assisting a businessman named Mr. Lisp in creating an army of superstrong robots, using the children of world leaders as a disguise, to conquer the world. The robots were constructed by Floop's servant Alexander Minion. An item named the Third Brain is required to power the robots, or at least give them the ability to speak and think. Ingrid and Gregorio were brought in, due to Gregorio being one of the scientists who created the Third Brain and hid it, although he refuses to give the hiding place. Floop's minions invade the Cortez home, although Carmen and Juni escape whilst Felix is captured, but not before he tells the children the truth about their parents. The children flee to a safe house where they decide to become spies, until Ms. Gradenko, a fellow spy, arrives to help them. It is revealed that Third Brain is hidden in the house and that Gradenko is in allegiance with Lisp. The children escape but soon encounter robotic clones of themselves who steal the Third Brain and deliver it to Minion, who takes command of the robots and imprisons Floop.
Carmen and Juni locate Gregorio's estranged brother Machete, an inventor, who harbors bitter feelings against his brother and refuses to help them. They steal a map of Floop's castle and a spyplane and head off on their own.The two make it to the castle and search for their parents. They encountered a thumb tumb, but Carmen attacked it by using an electrocote gumball. They change into their spy gear and search the castle. They try to find the dungeon, but were spotted by the robot children. They try to run away from them, but Carmen got trapped by a puzzle floor. She tried to jump across it, but got tricked and ended up falling to an endless drop. She landed on thumb thumb factory and desguised herself as a thumb thumb to escape. Juni finds Floop and frees him, convincing him to help them and explaining what was missing from his TV show, children. Carmen, Juni and Floop free Ingrid and Gregorio and then confront Minion, trapping him in a machine that creates the Fooglies on the children's show (who are actually the missing agents). Minion deliberately starts the machine but escapes before he becomes a Fooglie, altering his appearance with three extra heads and combined hands with multiple fingers. The spies confront Gradenko, Minion and Lisp and are attacked by their 500-man army of child robots. Machete arrives to help, but Floop rewrites the children's minds to make them act like children (as Minion says to Lisp, "They have minds of their own now, sir; anything we tell them to do goes in one ear and out the other!"), saving the Cortez family and causing the children to play with Gradenko, Minion and Lisp, tossing them around in the air. Gregorio and Machete reform their brotherly relationship, and Floop redesigns his show with Minion and the robotic Carmen and Juni as his new characters. The leader of the OSS, Devlin, offers the Cortez children jobs as spies, to which Carmen responds that the spywork is easy, whilst keeping their Cortez family together is the hardest mission of all. She demands that they be allowed to work together as a family.
Cast
Soundtrack
The film score is written by John Debney and Danny Elfman, with contributions from a variety of others, including director Robert Rodriguez and Marcel Rodriguez. Among Elfman's contributions is "Floop's Song (Cruel World)", which is performed by Alan Cumming. Los Lobos covers the Tito Puente song, "Oye Como Va" (adapted as "Oye Como Spy" by David Garza and Robert Rodriguez). The song was nominated for "Outstanding Song in a Motion Picture Soundtrack" at the 2002 ALMA Awards. The closing theme, "Spy Kids (Save the World)", is performed by the Los Angeles indie pop band, Fonda.
The score won an award at the ASCAP Film and Television Music Awards.
Track listing
"Cortez Family"
"My Parents Are Spies"
"Spy Wedding"
"Spy Kids Demonstration"
"Parents on Mission"
"Kids Escape House"
"Pod Chase"
"The Safehouse"
"The Third Brain"
"Buddy Pack Escape"
"Oye Como Spy"
"Floop's Song (Cruel World)"
"Spy Go Round"
"Minion"
"Sneaking Around Machetes"
"The Spy Plane"
"Floop's Castle"
"Final Family Theme"
"Spy Kids (Save the World)"
Release and Reception
Spy Kids received high critical acclaim upon release. It currently scores a 93% "Certified Fresh" approval rating on the review aggregate website Rotten Tomatoes with an average rating of 7.2 out of 10. The site's critical consensus reads: "A kinetic and fun movie that's sure to thrill children of all ages." It has a score of 71 out of 100 on Metacritic based on 27 reviews indicating "Generally favorable reviews".
Roger Ebert gave it 3.5 out of 4 stars and called it "a treasure". He wrote, "Movies like "Spy Kids" are so rare.
Families are often reduced to attending scatological dumber-and-dumbest movies like "See Spot Run"--movies that teach vulgarity as a value. "Spy Kids" is an intelligent, upbeat, awesome movie that is not about the comedy of embarrassment, that does not have anybody rolling around in dog defecate, that would rather find out what it can accomplish than what it can get away with." Mick LaSelle of San Francisco Chronicle wrote, "It's entertaining and inoffensive, a rare combination in kids' films, which are usually neither." Lael Loewenstein of Variety observed, "A full-blown fantasy-action adventure that also strenuously underscores the importance of family, Spy Kids is determined to take no prisoners in the under-12 demographic, a goal it sometimes dazzlingly achieves. Robert Rodriguez's film, in which two kids become real spies to save the world from a mad genius, fulfills kids' empowerment fantasies and features enough techno-wizardry and cool f/x to satisfy those weaned on videogames."
Spy Kids grossed over $112,719,001 domestically and $35,215,179 overseas for a worldwide total of $147,934,180.
A special edition with a deleted scene was released to theaters on August 8, 2001. It also was released with Kellogg's products. There were plans to release the special edition to DVD but it never materialized, despite the fact that a director's commentary and interviews were already recorded for it.
Home Video Release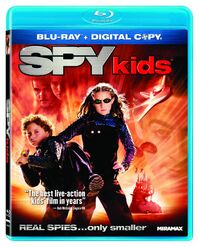 The film was released on Video and DVD in the United States on September 18, 2001. The film is also available to download on iTunes. A 91-minute Blu-Ray re-release was scheduled for August 2, 2011 to coincide with the fourth film.
Gallery>
No pictures but add any film still or screenshot you remember or you have found on the internet.
Ad blocker interference detected!
Wikia is a free-to-use site that makes money from advertising. We have a modified experience for viewers using ad blockers

Wikia is not accessible if you've made further modifications. Remove the custom ad blocker rule(s) and the page will load as expected.