Spy Kids 4D - All the Time in the World
Talk

0
Share
Spy Kids:4D All The Time in the World (often referred to as Spy Kids 4D, also known as Spy Kids 4: All The Time in the World and Spy Kids: All The Time in the World) is an American 4D action-adventure family film directed by Robert Rodriguez and the fourth installment in the Spy Kids series. It is currently set to be released on August 19, 2011. Filming began on October 27, 2010.[1] It will be the first of the series that uses "Aromascope" that allows people to smell odors and aromas from the film via scratch & sniff cards (reminiscent of the infamous 1960s Smell-O-Vision)[4] last used theatrically in the 2003 Nickelodeon animated film Rugrats Go Wild.
Plot
Marissa Cortez Wilson (Jessica Alba), is trying to fight a villain named Tick-Tock (Jeremy Piven), when she goes into labor with a baby girl named Maria and manages to defeat him and send him to jail. She decides to retire because she does not want her stepchildren and her newborn in danger and does not want anyone to know that she was a spy. The film then revolves around the twins named Rebecca and Cecil Wilson (Rowan Blanchard and Mason Cook) who always bet and compete against each other. Rebecca has no respect for her stepmother as she thinks that she won't be able to replace her deceased mother. Their father is actually a spy-hunting reporter Wilbur Wilson (Joel McHale), who has little time to spend with them and has to go to work and has not even caught one spy.
When Earth is threatened by an organization led by a hyperion mastermind mysteriously known as "the Timekeeper" (Jeremy Piven), Marissa is contacted and called back into action by the OSS and has to take the baby with her, leaving a red-sapphire necklace (the key to the Timekeeper's plan) with Rebecca. When the Timekeeper's thugs try to break into their house, Rebecca and Cecil escape and go into the Panic Room. A video is shown of Marissa, telling the children why the Panic Room was installed and that she is a spy. They do not believe it until their dog Argonaut talks, as he is a robot dog, and they escape in rockets and go to the OSS but then are chased by the Timekeeper's minions until they avoid them by throwing bags of vomit at them. Carmen Cortez (Alexa Vega) helps them by letting them have gadgets as souvenirs and wait in a room but they escape and create havoc around the OSS.
They later go to the Big Time Watch Repair Shop as they uncover a code to where the Timekeeper is hiding and become frozen by Tick Tock but Marissa and Carmen help them by activating their gadgets and they all escape. Wilbur witnesses the fight and becomes upset, and is fired for destroying the evidence that Marissa is a spy and he is upset that she didn't tell him the truth about her past.
The OSS brings back Carmen's brother, Juni Cortez (Daryl Sabara) since he is their best agent ever and they have Rebecca and Cecil stay back at the OSS so they do not cause any trouble. But when the director of the OSS, Danger D'amo shows up and Rebecca notices his watch is like the Timekeeper and Cecil scrambles the letters of his name saying Armageddon, they are locked in. They escape by setting Argonaut to attack mode and smashing the door. The OSS agents are all frozen except Juni because he doesn't have his badge on as Carmen threw it away. Juni uses his watch to connect to Rebecca and Cecil to get the necklace back, and he unfreezes all the agents.
However, with the end of the world pending and the necklace stolen by the Timekeeper, both Rebecca and Cecil find that they have no choice but take part in the battle. As they get some gadgets and help Marissa, Rebecca has to put her anger against Marissa aside to rescue the lives that are at stake and are able to get through Tick-Tock's minions. They stop the Timekeeper who reveals he is doing this to see his father back in time, as while working on something else, Danger got frozen as a boy and kept going back in time to see him and (after aging as a side-effect) accept time the way it is. Following that epiphany, he disables the Armageddon device and leaves the premises an older and wiser man. Rebecca tells Marissa that she and Cecil are her kids and "the best spies ever". Wilbur handcuffs Tick-Tock, knocks out his minions, and Argonaut comes with Maria who takes her first steps. When Tick-Tock tries to charge and escape Maria flips him over her head. And Marissa saying "Baby's first bad guy". Carmen and Juni announce that they've decided to be co-leaders of the "Spy Kids" program. In the end we see Rebecca and Cecil choose new recruits and both say to the selected recruits "You have been activated."
Cast
Production
Production on the film was officially announced on September 25, 2009, six years after the release of Spy Kids 3-D: Game Over, by Dimension Films.[9] The script for the film was completed by Robert Rodriguez in December 2009.[10] The title for the film was officially revealed as Spy Kids 4: All the Time in the World on March 24, 2010 as well as an August 2011 release window,[11] which was later updated to an August 19, 2011 release date.[12] Filming for the movie began in October 2010.[1] The teaser was released on May 26, 2011 during Kung Fu Panda 2 and June 3, 2011 during X-Men: First Class.
Reception
The film received generally negative reviews upon release, with an approval rating of 23% and an average rating of 3.9 out of 10 on Rotten Tomatoes. It has a score of 37 out of 100 on Metacritic based on 27 reviews indicating "generally unfavorable reviews". CinemaScore polls reported that the average grade moviegoers gave the film was a B-plus on an A-plus to F scale. Common Sense Media gave the film 1 out of 5 stars. The website reads, "Positive messages can't save worst film in action series." The film took in $4 million on its opening day and $2 million over the three-day weekend, debuting in third place behind The Help and Rise of the Planet of the Apes. That was on the low end of expectations, but an executive of The Weinstein said, "We're okay with this number. We're going to be in good shape with this film, and it will play for the rest of the summer". The following weekend, it dropped 48% to $6 million, and took sixth place, and on the following weekend, it earned an additional $6.8 million over the four-day Labor Day Weekend. As of November 2011, the film earned $38 million in the U.S and $85 million worldwide, making it a moderate financial success, against its $27 million budget.
Home Video Release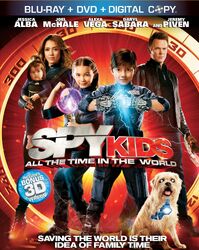 The film was released on DVD, Blu-ray, 3D Blu-ray and on DVD + Blu-ray + Digital Copy combo packs on November 6, 2011.
Gallery
No pictures but add any film still or screenshot you remember or you have found on the internet.
Ad blocker interference detected!
Wikia is a free-to-use site that makes money from advertising. We have a modified experience for viewers using ad blockers

Wikia is not accessible if you've made further modifications. Remove the custom ad blocker rule(s) and the page will load as expected.