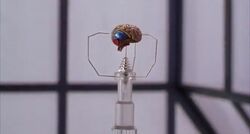 The Third Brain System is a project referred to in the film, Spy Kids. The Third Brain was originally devised for good, when Gregorio Cortez worked on the project. The goal of the Third Brain was to create artificial intelligence equivalent to the intelligence of the best spies.
History
Creation
TBA
Spy Kids
In Spy Kids, Mr. Lisp tries to use the Third Brain in order to create an army of robot children to take over the world (including Carmenita and Junito).
Trivia
The idea behind it was originally developed by Natalie Cox.
Ad blocker interference detected!
Wikia is a free-to-use site that makes money from advertising. We have a modified experience for viewers using ad blockers

Wikia is not accessible if you've made further modifications. Remove the custom ad blocker rule(s) and the page will load as expected.