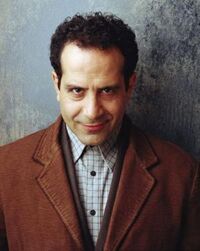 Tony Shalhoub is one of the actors in the Spy Kids series. He is known for playing the character Alexander Minion.
Early life
Shalhoub was born and raised in Green Bay, Wisconsin. His father, Joe Shalhoub, a Maronite from Lebanon, immigrated to the United States as an orphan at the age of 10. He married Shalhoub's mother, Helen, a second-generation Lebanese-American, and founded a family grocery chain, starting with a store in downtown Green Bay.
References
Ad blocker interference detected!
Wikia is a free-to-use site that makes money from advertising. We have a modified experience for viewers using ad blockers

Wikia is not accessible if you've made further modifications. Remove the custom ad blocker rule(s) and the page will load as expected.